Base PoE
SKU:K012-C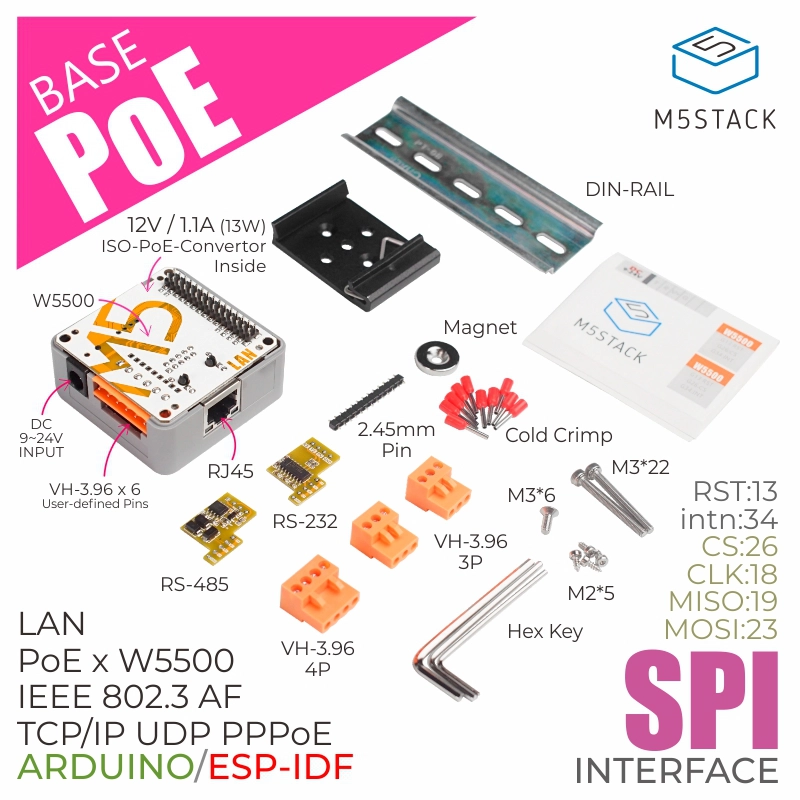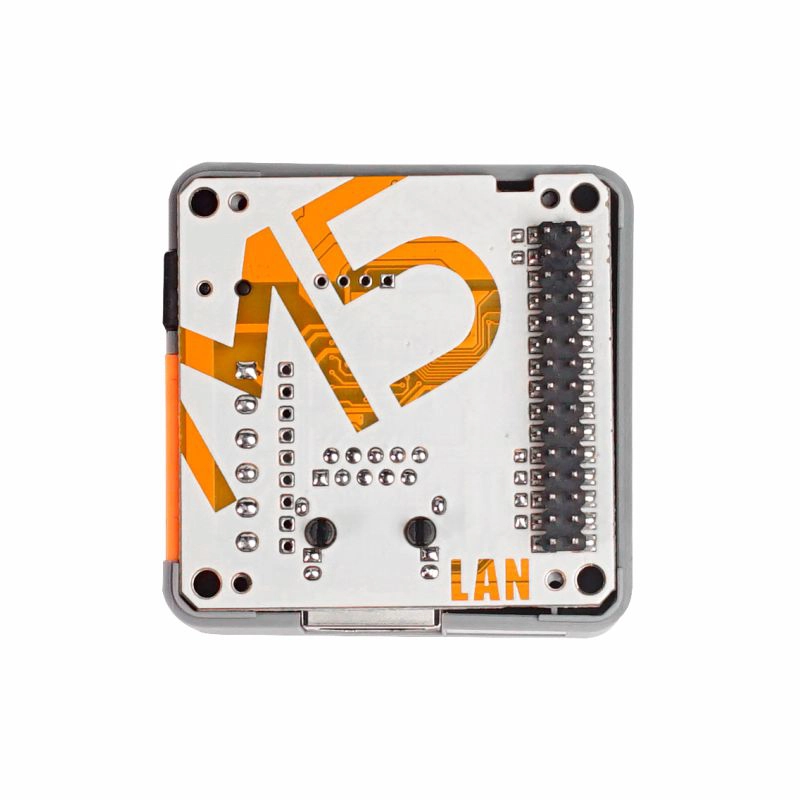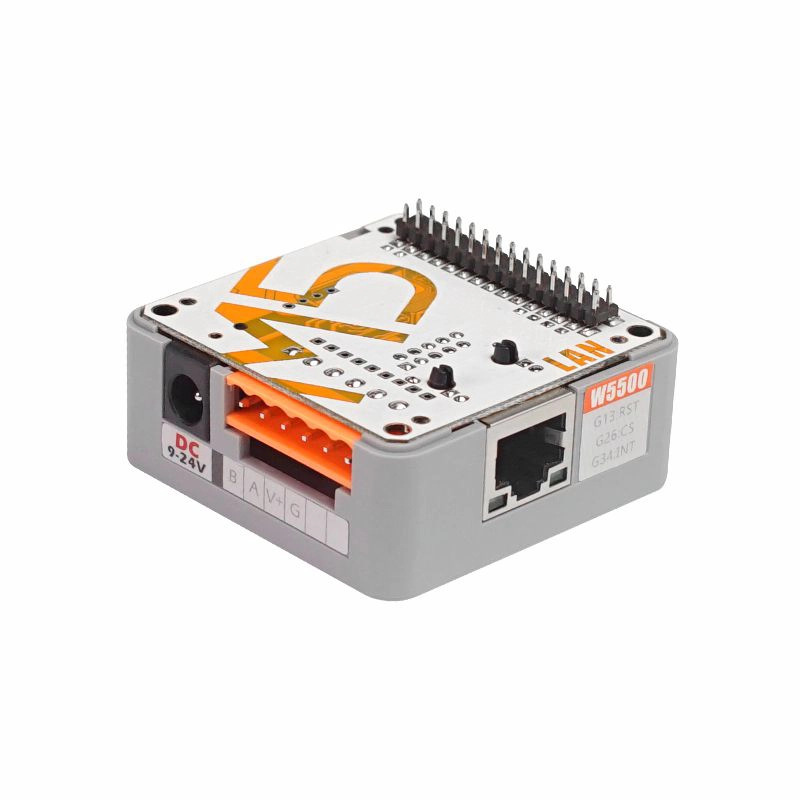 Description
Base PoE is an M5 Base that implements a W5500 Ethernet controller chip with PoE module, which provides Hardwired TCP/IP embedded Ethernet control to facilitate easier internet connection to embedded systems. W5500 integrates TCP/IP protocol stack, 10/100M Ethernet data link layer (MAC) and physical layer (PHY).This base supports RS485 / RS232 communication and can be used as an Ethernet to serial port server. It is specifically designed for industrial applications. PoE (Power over Ethernet) technology is supported. Through the built-in PoE module, power can be directly supplied to the base through PoE hub / switch without a separate power supply. It comes with a couple of HT3.96 connectors, metal rail and magnet discs for easy installation. The 6 pins of the HT3.96 connector are spare, you can wire them up with an RS485 or RS232 adapter board as you like.
This product is EOL now.
Product Features
Support PoE IEEE802.3 AF
DC input supply voltage: 9-24V
Ethernet access
HT3.96 port for supporting RS485/RS232 communication
8 independent hardware socket simultaneous communication
Support TCP, UDP, ICMP, IPv4, ARP, IGMP, PPPoE protocols
Support integrated 10BaseT / 100Base-T Ethernet PHY
Easy to fixed on the wall
Applications
Ethernet controller
Ethernet and RS485/RS232 data forwarding
Ethernet network node
Include
1x PoE Base
1x TTL-to-RS485 adapter board
1x TTL-to-RS232 adapter board
1x pin header 20pin
1x metal rails and magnet discs
3x HT3.96 terminal
2x 3pin
1x 4pin
10x cold crimp terminal(red Copper Lugs)
3x HEX KEY   - 1x 1.5mm   - 1x 2mm   - 1x 2.5mm
2x hexagon socket head cap screws M3x28
4x hexagon socket tapping screw KA2x4
1x countersunk head screw M3x8
Specification
| Resources | Parameter |
| --- | --- |
| Ethernet chip | W5500 |
| Support protocols | TCP, UDP, ICMP, IPv4, ARP, IGMP, PPPoE |
| RS485 chip | SP3485EE |
| RS232 chip | MAX232 |
| PoE power supply mode | Idle network cable pin power supply(10M/100M Ethernet),J4&J5(VC-),J7&J8(VC+) |
| PoE specification | IEEE802.3 AF |
| DC input voltage | 9V~24V |
| Net weight | 32g |
| Gross weight | 132g |
| Product size | 54*54*28mm |
| Package Size | 105*65*40mm |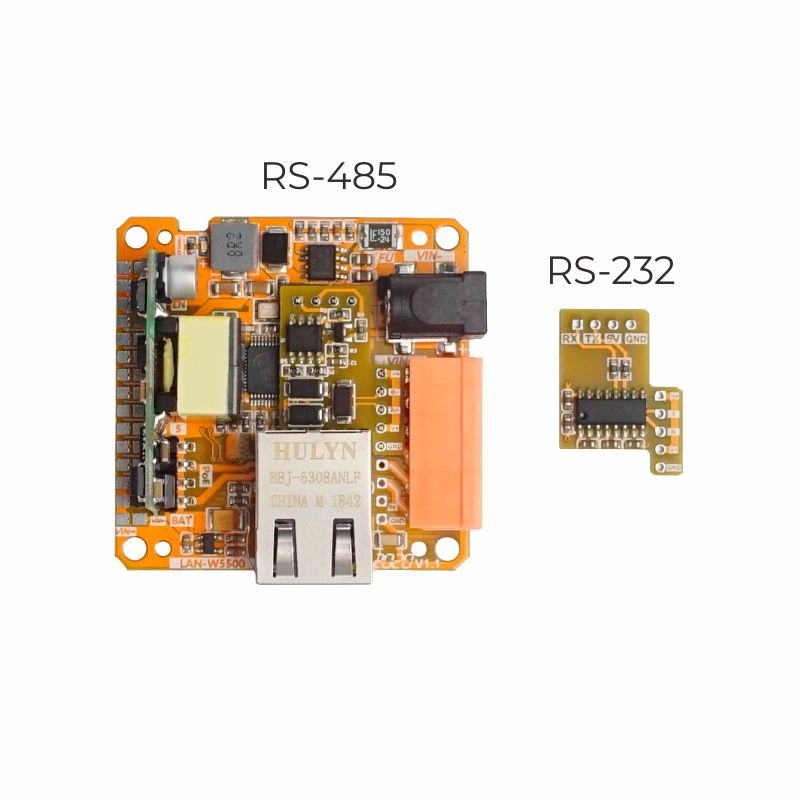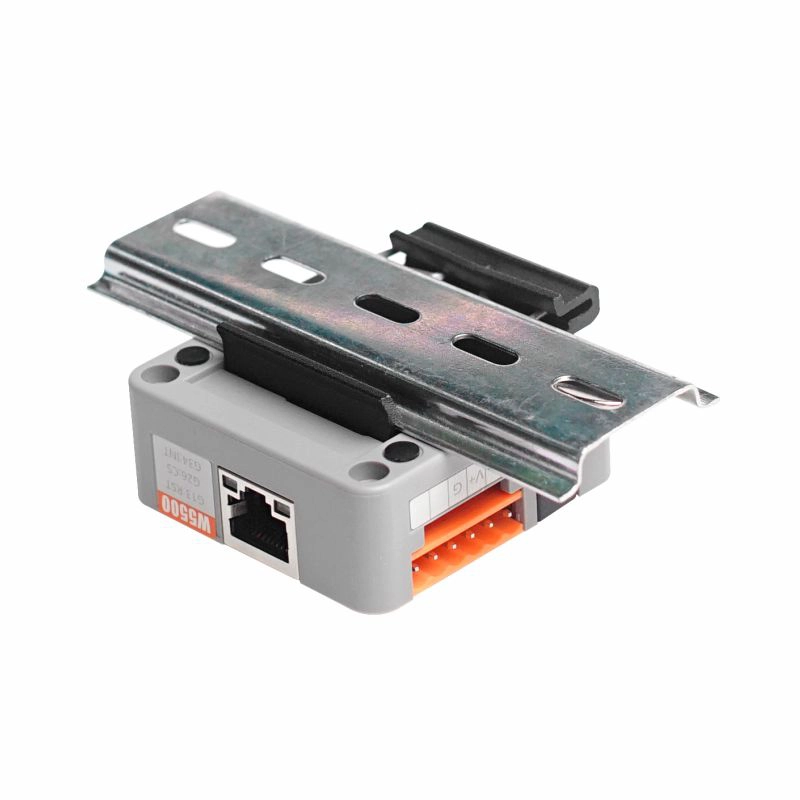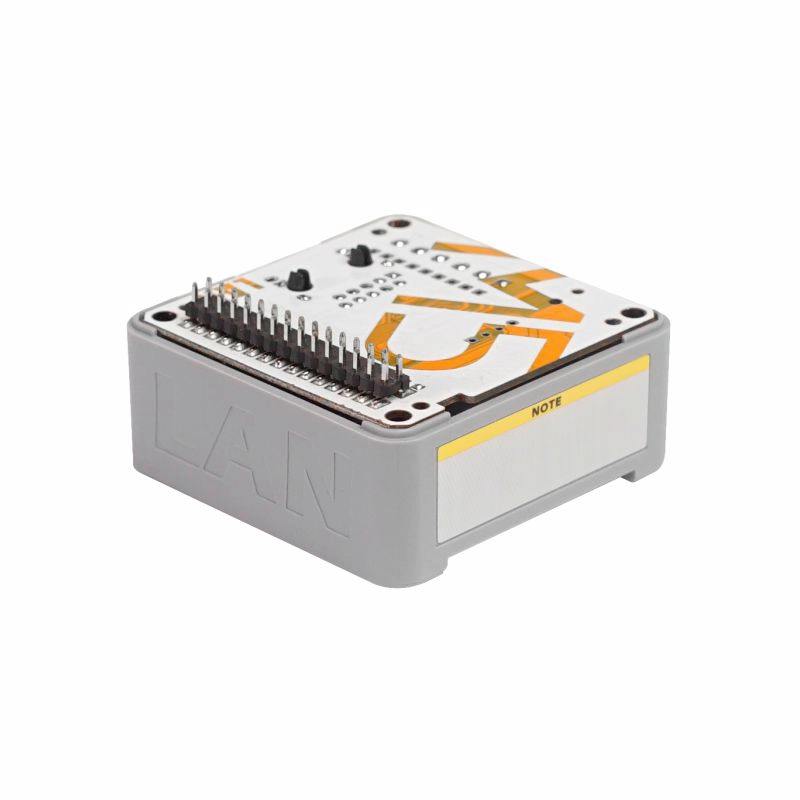 EasyLoader
EasyLoader is a concise and fast program writer, which has a built-in case program related to the product. It can be burned to the main control by simple steps to perform a series of function verification.
Download Windows Version Easyloader Download MacOS Version Easyloader
Description:
Send messages or commands via Ethernet to control M5Stack 6060 PUSH or display messages on the screen
PinMap
| M5Stack | GPIO13 | GPIO18 | GPIO19 | GPIO23 | GPIO26 | GPIO34 | GPIO5 | GPIO15 |
| --- | --- | --- | --- | --- | --- | --- | --- | --- |
| W5500 PoE | RST | CLK | MISO | MOSI | CS | INT | RX | TX |
Right side M-BUS pin definition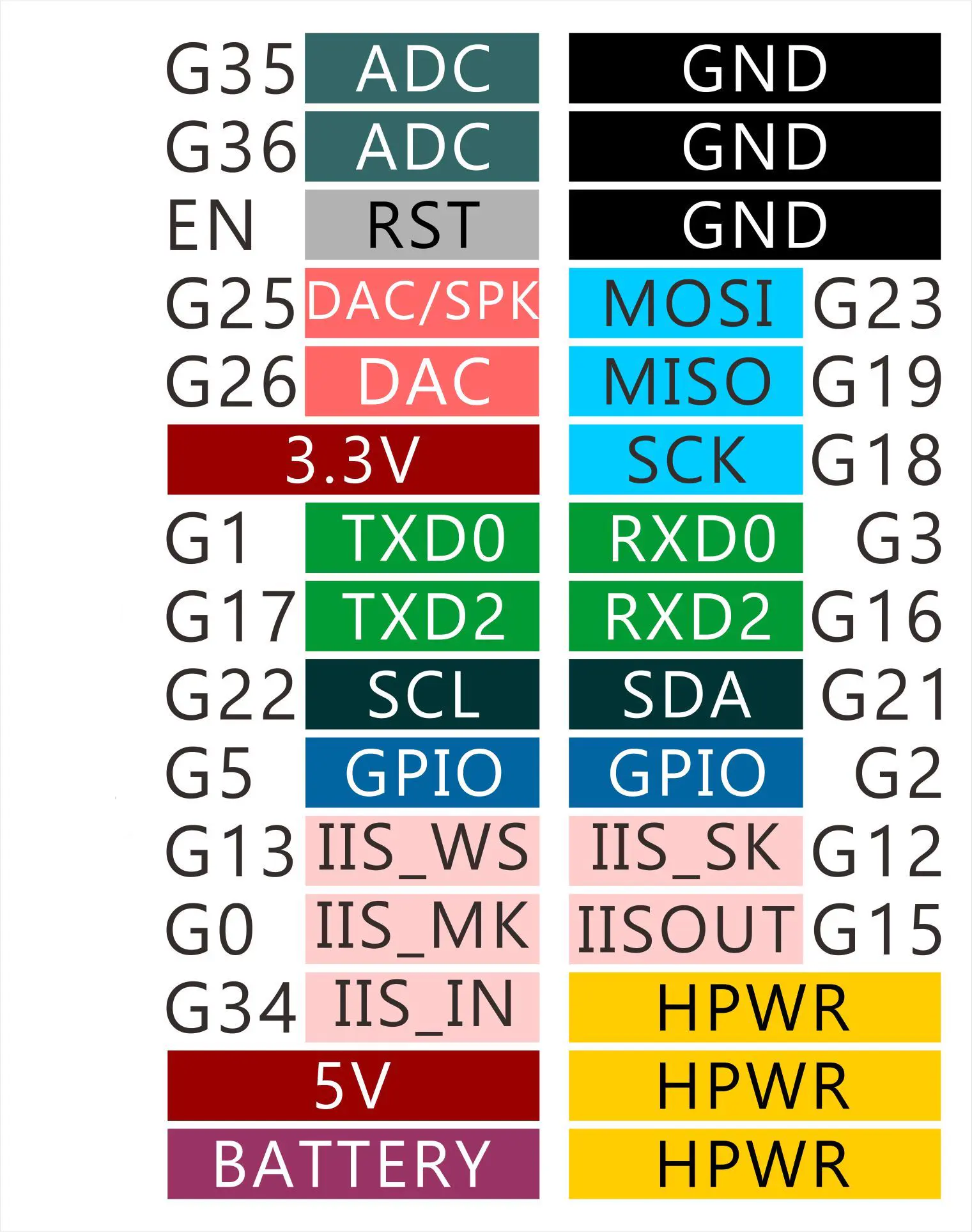 Schematic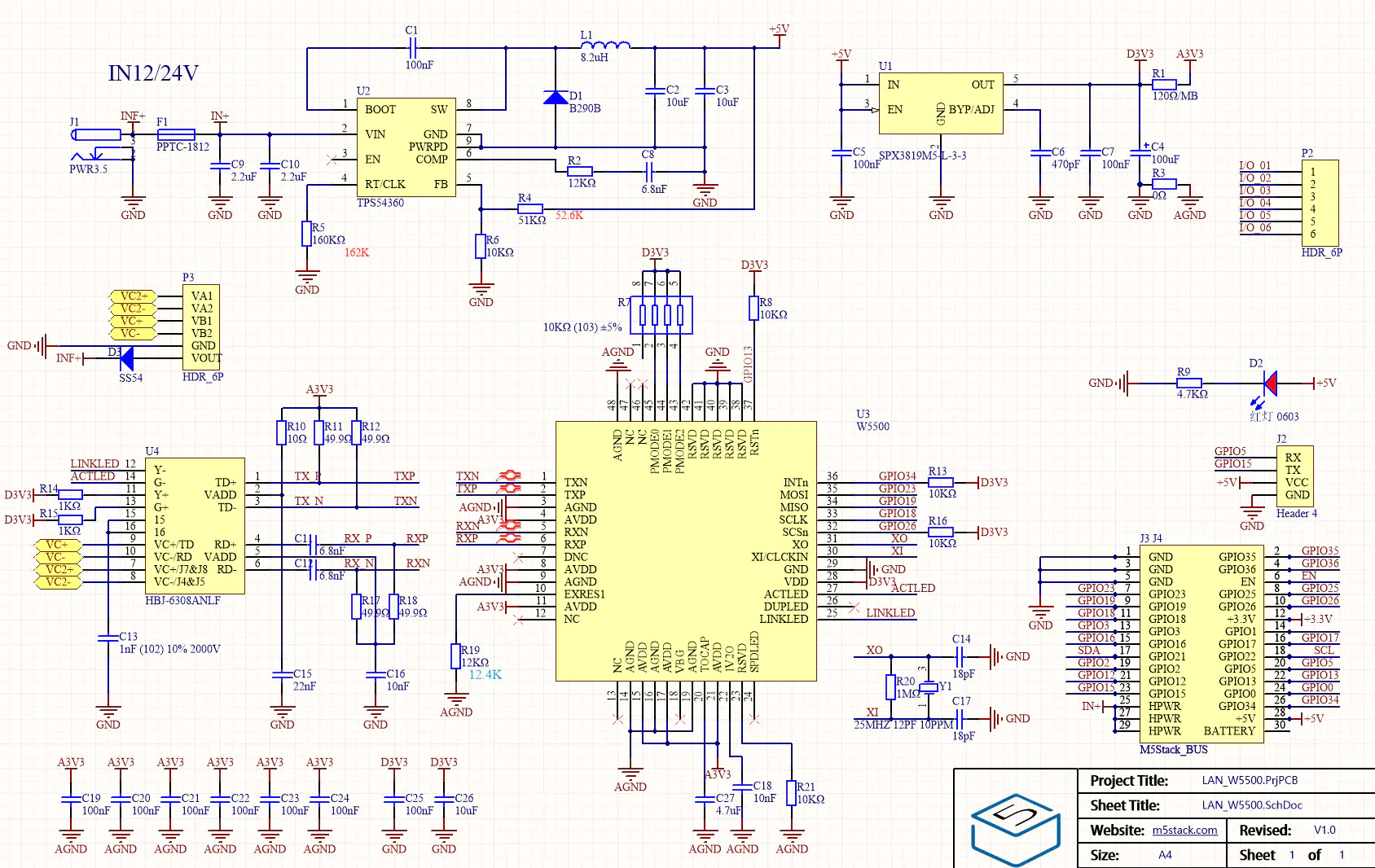 Example