UIFlow - EchoSTT
EchoSTT is a voice-to-text service that sends local voice to a cloud server through the network, and returns the recognition result to the machine or other M5 devices. Whether you use the service in UIFlow or Arduino, you need to bind the token with the MAC address to obtain the permission. The specific steps are as follows:
The following tutorial will show you how to use other M5 devices to obtain Echo voice recognition results in UIFlow.
Driver Installation
Connect the device to the PC, open the device manager to install FTDI driver for the device. Take the win10 environment as an example, download the driver file that matches the operating system, unzip it, and install it through the device manager. (Note: In some system environments, the driver needs to be installed twice for the driver to take effect. The unrecognized device name is usually M5Stack or USB Serial. Windows recommends using the driver file to install directly in the device manager (custom Update), the executable file installation method may not work properly). Click here to download FTDI driver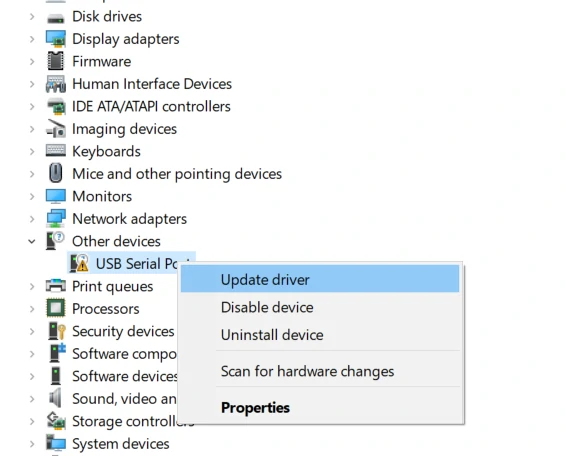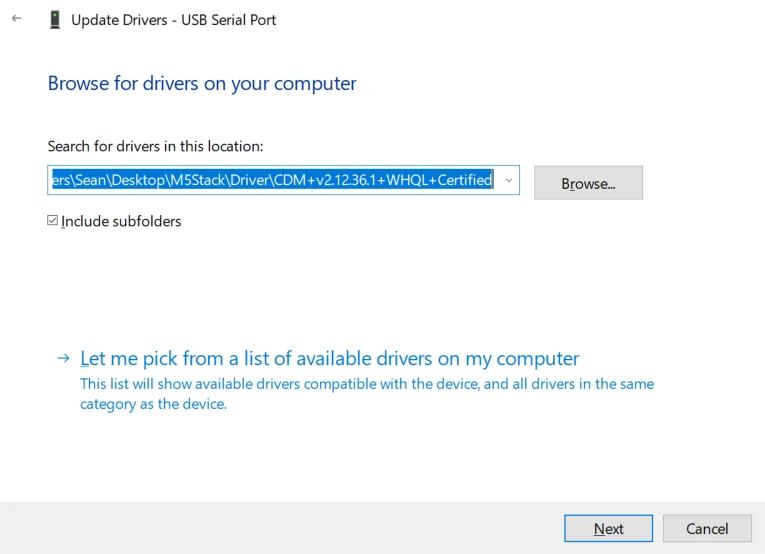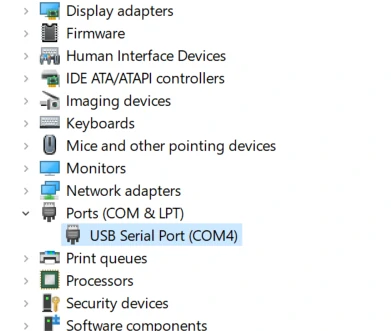 For MacOS users, please check System Preferences -> Security and Privacy -> General -> Allow downloadable apps from the following locations -> App Store and Approved Developer Options .
Firmware & Token
Burn firmware
Please click the button below to download the corresponding M5Burner firmware burning tool according to the operating system you are using. Unzip and open the application.
Note:
After installation for MacOS users, please put the application in the Application folder, as shown in the figure below.
For Linux users, please switch to the unzipped file path and run ./M5Burner in the terminal to run the application.
GET Token
Find the ATOM option, select EchoSTT and click download to download the firmware, select English firmware or Chinese firmware according to the language you want to recognize. Connect ECHO to the computer USB port, select the corresponding COM port, click burn to burn, and wait for the serial port The monitor shows a prompt that the programming is complete.
Click Get Token to get the Token needed to connect to the STT server, record this Token, it will be used in your subsequent programming
Recognition result call
Connect other M5 devices to configure WIFI programming mode and connect to UIFlow Web IDE (for related configuration tutorials, please refer to the UIFlow manual of the master you are using). Fill in the EchoSTT Token obtained in the above steps into the initial configuration , Run the program.
After completing the above steps, press the middle button of Echo to start voice recording. After release, the voice will be automatically uploaded to the cloud for recognition, and the M5 device will automatically obtain the recognition result for display.
Init echo speech recognition token Fill in the Token and initialize the voice service.

Recv echo data The callback function receives the data returned by speech recognition

Get recv text Receive data returned by speech recognition
Example
Arduino example program for EchoSTT service
Indicator Description
After booting, the red status light indicates that the network is not connected

After power on, the green status light indicates that it is connected to the network

Press the button and the status light turns yellow

The recognition result recognition status light is red

The successful status light of the recognition result is green
When using this case, you need to click to obtain Token through M5Burner, fill in the SSID and WIFI password in the example, and find rest.settoken("your_token"); fill in the obtained Token in it