M5StickC MicroPython Quick Start
This tutorial applies to M5StickC
Driver Installation
Connect the device to the PC, open the device manager to install FTDI driver for the device. Take the win10 environment as an example, download the driver file that matches the operating system, unzip it, and install it through the device manager. (Note: In some system environments, the driver needs to be installed twice for the driver to take effect. The unrecognized device name is usually M5Stack or USB Serial. Windows recommends using the driver file to install directly in the device manager (custom Update), the executable file installation method may not work properly). Click here to download FTDI driver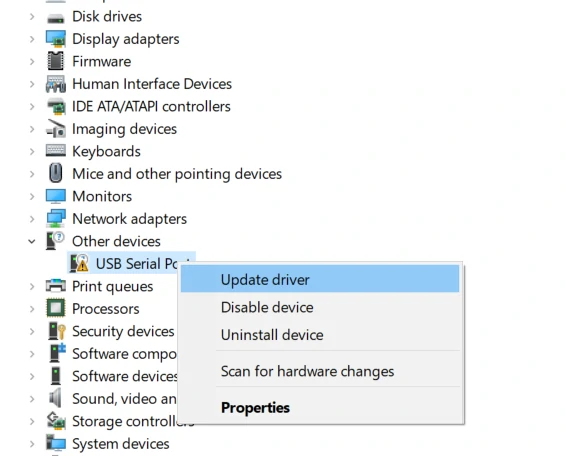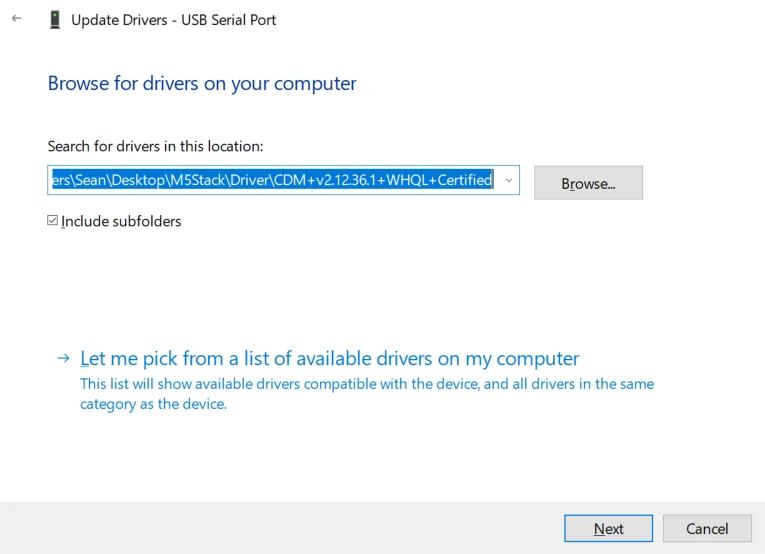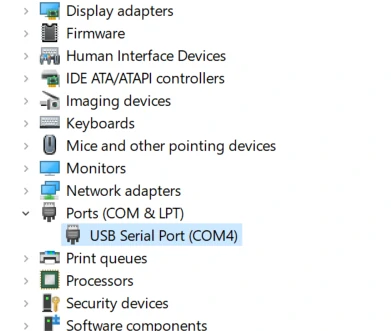 For MacOS users, please tick System Preferences -> Security and Privacy -> General -> Allow downloadable apps from the following locations -> App Store and Approved Developer Options .
Please click the button below to download the appropriate M5Burner firmware burning tool according to the operating system you are using. Open the application after decompression.
Pay attention:
MacOSAfter the user has completed the installation, please put the application into theApplication,As shown in the following figure。
LinuxFor users, please switch to the decompressed file path and run in the terminal../M5Burner, run the application。
Firmware burning
Double-click to open the Burner burning tool, ① select the corresponding device class in the left menu, ② select the firmware version you need, and ③ click the download button to download.
Connect the M5 device to the computer through the Type-C data cable, ④ select the corresponding COM port, the baud rate can use the default configuration in M5Burner, ⑤ after the configuration is complete, click "Burn" to burn.
You can fill in the WIFI information that the device will connect later during the firmware burning phase. (This information will be used for devices to connect to the network, and in this tutorial, we will program in USB mode, which is not required.).
When the burning log prompts Successfully, it means that the firmware has been burned.
When the first burning or the firmware program runs abnormally, you can erase the flash memory by clicking "Erase" in the upper right corner. In subsequent firmware updates, you do not need to erase it again.
Configuration file.
If you need to modify the configuration file, please connect your M5 device to your computer through the Type-C cable and select the corresponding COM port,⑦Then you can click configuration to modify it.
APIKey: Communication credentials of M5 devices when programming with UIFlow web.
Start Mode: Configurable mode to enter after startup.
Quick Start: You can choose Quick start to skip the startup interface.
Server: Server selection.
Wifi: Configure SSID and Password for Wifi.
VSCode IDE Development.
Preparatory work.
Download. VSCode IDE: Click here to download
Install the M5Stack plug-in: Search the plug-in market for M5Stack and install the plug-in, as shown below.
Device offline programming mode (USB mode).
Click the power button on the left side of the device to restart, quickly click the right button to switch mode after entering the menu, and selectUSB mode。
Connect to Device.
Click the Add M5Stack option in the lower left corner and select the corresponding device port to complete the connection.
LED Control
After completing the above steps, let's implement a simple lighting case program, open the M5Stack file tree, and type in the following program. Click Run in M5stack to easily light the built-in lights. If the device is reset, click the refresh button to reopen the file tree.
Sample code.
from

 m5stack 

import

 *


from

 m5ui 

import

 *


from

 uiflow 

import

 *

M5Led.

on

()