Unit NeoHEX
SKU:A045-B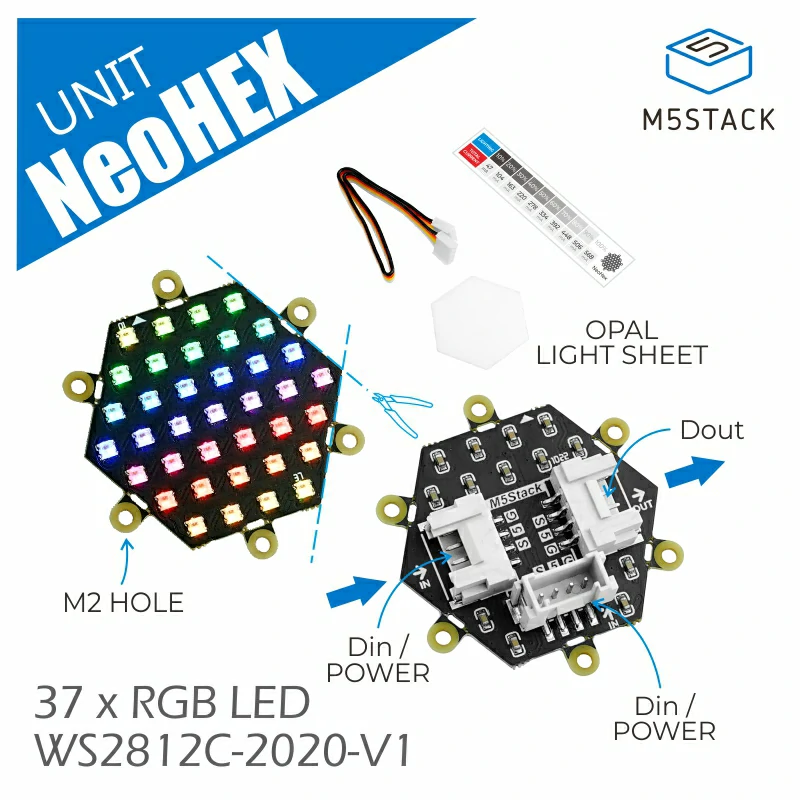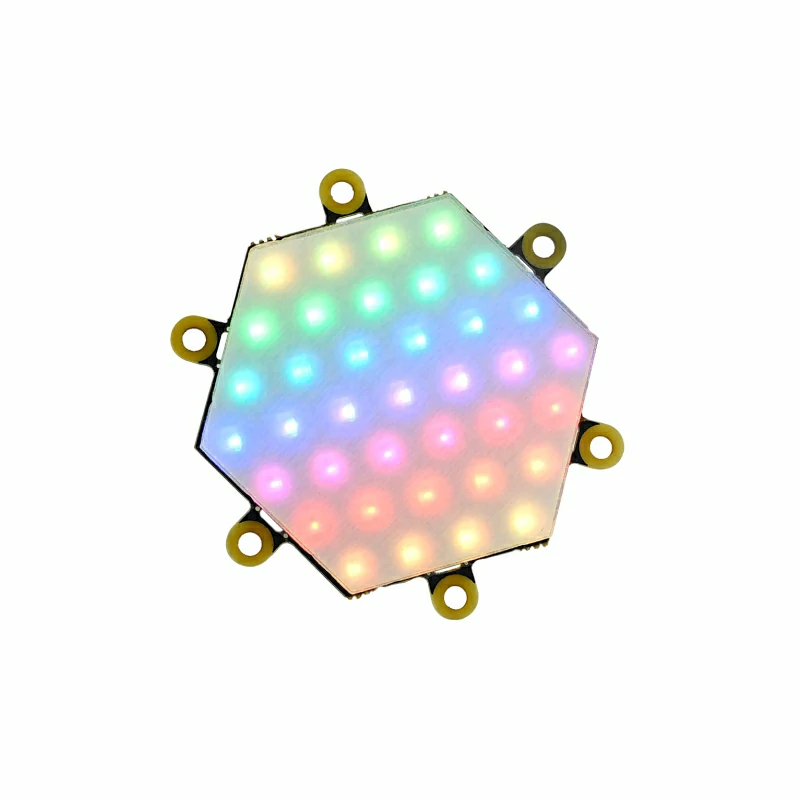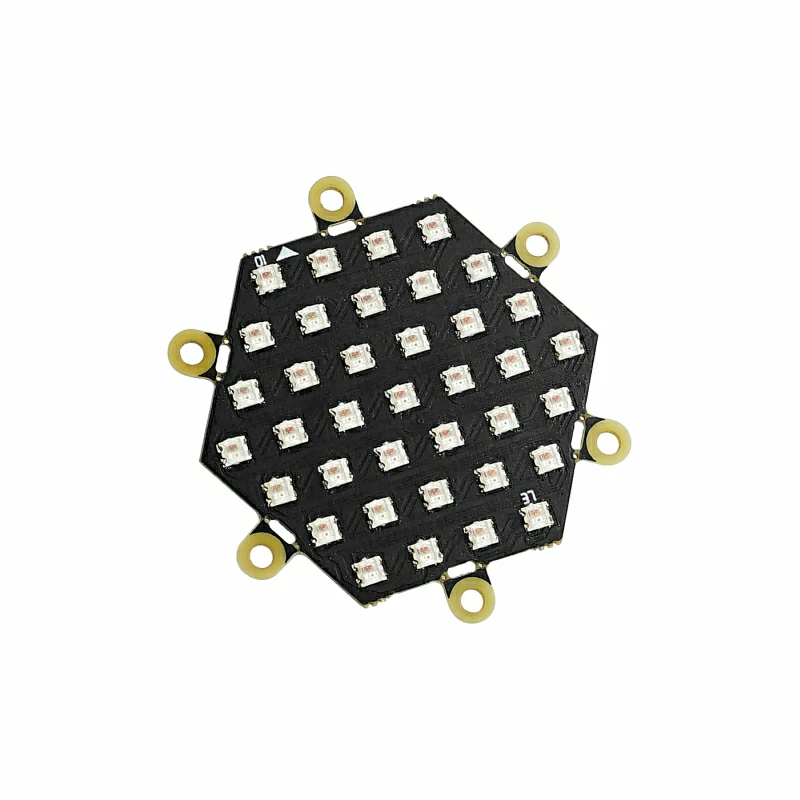 Description
NeoHEX is a hexagonal board with 37 RGB LED flexible beads and will be sure to 'WOW' plenty. Use single BUS control, and support multiple boards connecting. Two sets of different angle input connectors are provided for independent power supply + signal control. External structure with fixing ears for easy installation. With its opal light sheet, the diffusion creates a gentle glow and provides innovative solutions to transform your living spaces into unique pieces of functional art.
Product Features
WS2812C-2020-V1
Number of LEDs: 37
Support multiple boards connection
6x fixing ears (removable)
Comes with opal light sheet
Single pixel support 256 levels of brightness display, can be combined for 16777216 kinds of full color display
Included
1x NeoHEX Unit
1x Opal light sheet
1x Power Consumption Reference Card
1x HY2.0-4P cable (20cm)
Applications
Specifications
Specification
Parameters
LED Bead Model
WS2812C-2020-V1
Number of light beads
37
Voltage supply
3.7 ~ 5.3V
Logic input level
-0.3V ~ VDD+0.7
Output/output interface
HY2.0-4P interface: 2x input (signal, power), 1x output (extension)
Refresh Rate
30 frames (1024 cascades)
Power consumption
Actual measurement of power consumption (37 lights are fully lit, brightness 100%):
Red Light:DC5V@207mA
Green Light:DC5V@109mA
Blue Light:DC5V@208mA
White light:DC5V@568mA
Adjustable brightness
Level 256
Support Colors
16777216 kinds of colors
Fixing hole diameter
2mm
Net Weight
3.7g
Gross Weight
9g
Product Size
40*36*7mm
Package Size
93*138mm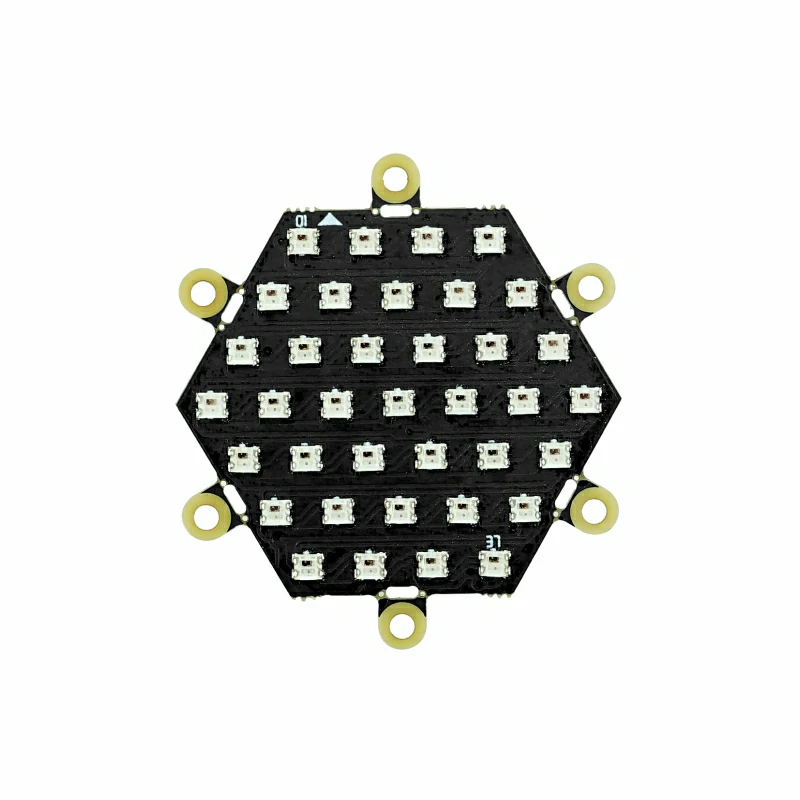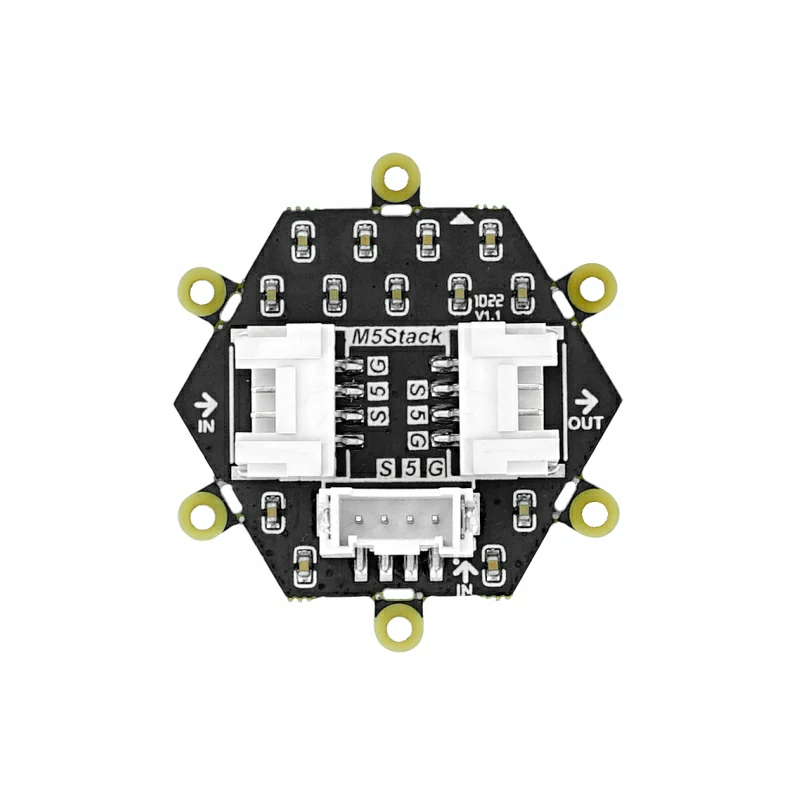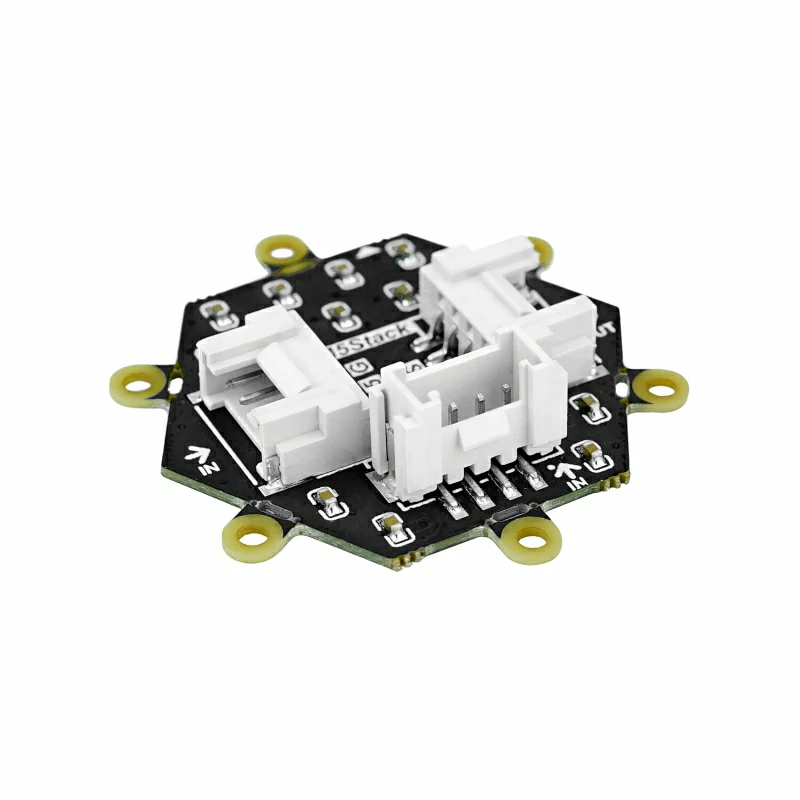 Brightness/Power consumption reference

Drive conditions
Different M5 main control in the USB power supply conditions of the light board drive for reference.
Actual drive conditions:

ATOM: White light brightness is 82% normal drive(>Unable to light up at 86%)
CORE: White light brightness is 100% normal drive
CORE2: White light brightness is 100% normal drive
M5StickC: White light brightness is 86% normal drive(>Unable to light up at 90%)
M5StickCPlus: White light brightness 78% normal drive(>Unable to light up at 86%)
Structure Diagram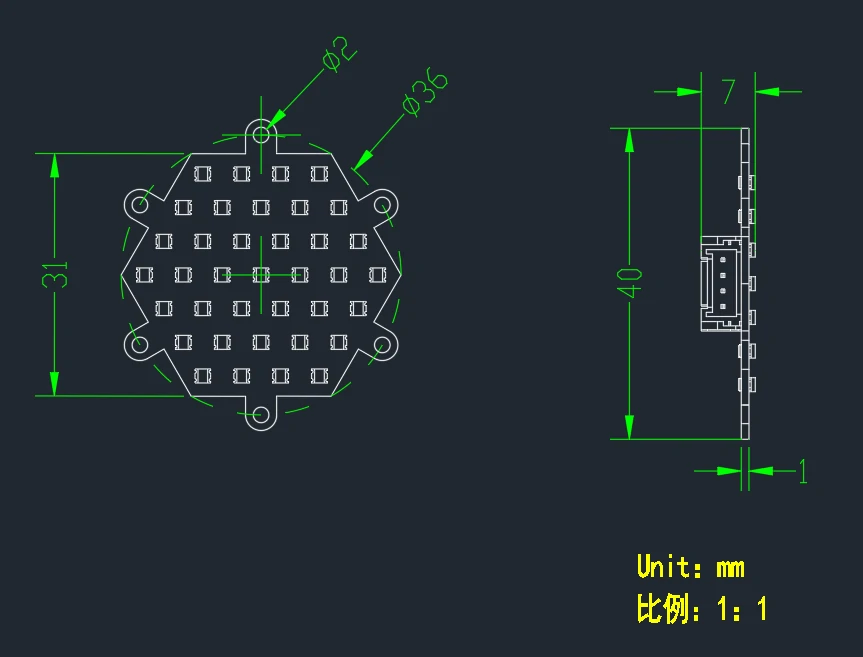 Pin Mapping
| M5Core(PORT A) | GPIO22 | GPIO21 | 5V | GND |
| --- | --- | --- | --- | --- |
| Unit NeoHEX | / | Data Pin | 5V | GND |
Schematics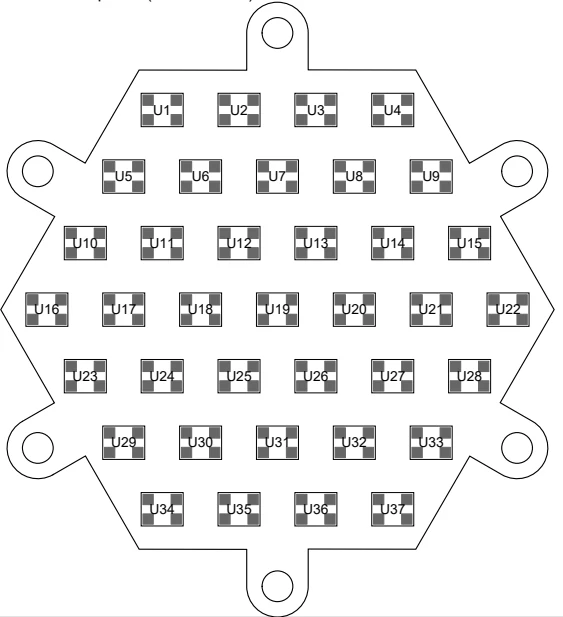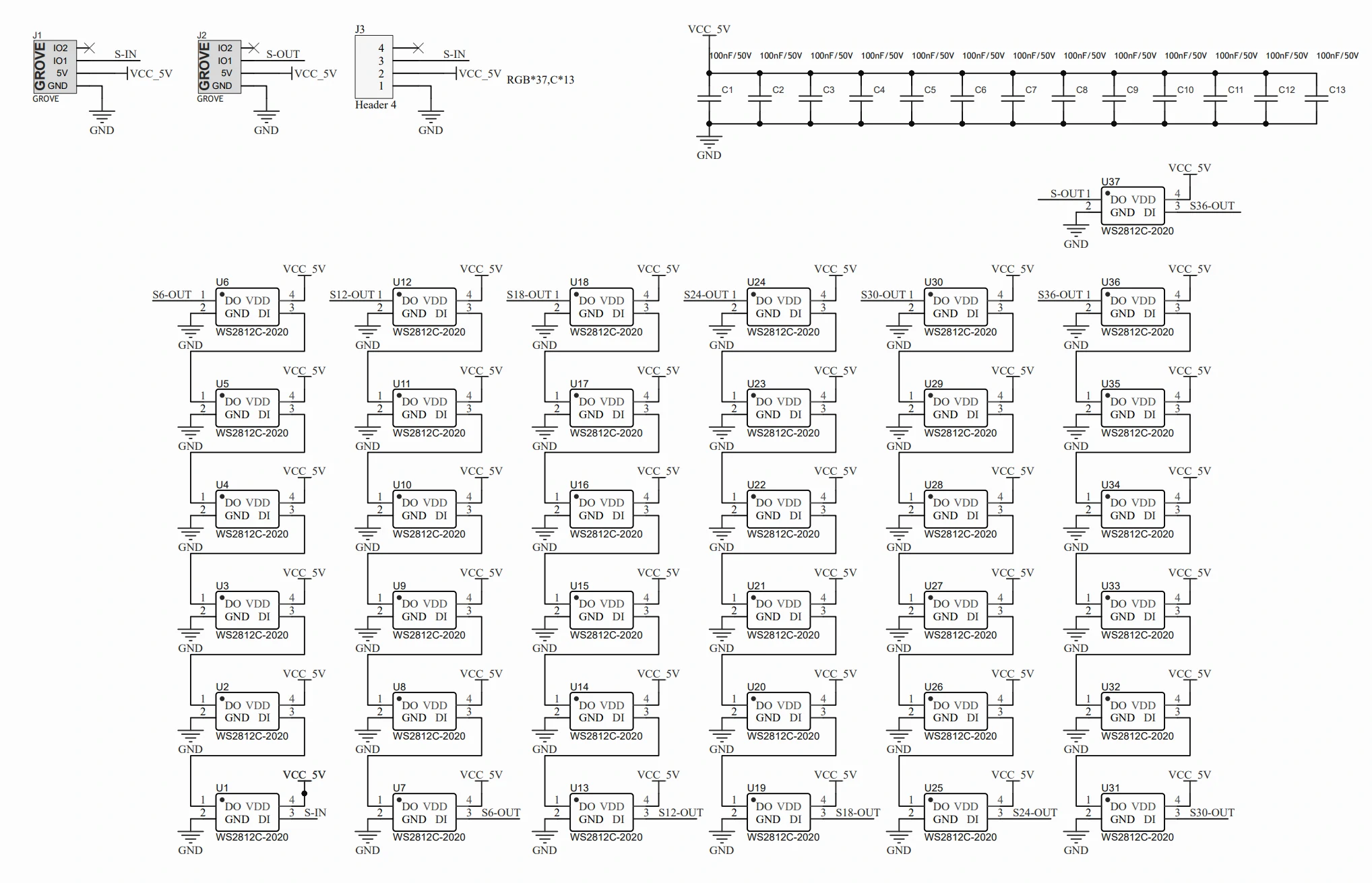 Learn
Simple Watch Device
Make a simple watch device using UIFlow.
Example
Arduino
UIFlow